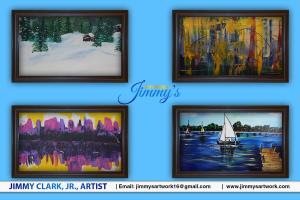 I'm pleased to announce the launch of my brand-new art website! I'm delighted to officially announce the launch. The new site launch is available and the URL is https://www.jimmyclarkjr.com.

The new website gives access to view my art work in my online art galleries; shop for prints, canvas prints, metal prints, throw pillows, posters, greeting cards, iPhone cases, tote bags, beach towels, etc. through a secure online portal.

Also, you will be able to view and shop my SIGNATURE COLLECTION: unisex tees, sleeveless tops, scarves, sheer wraps, yoga capri pants, men's silk pocket squares, men's ties, statement clutches, essential tops, statement bags, etc.

I would like to thank my wife Pascale and my step-daughter, Lonnie Pauls, CHROMA Creative Media for their time and energy in assisting me in developing this site.

I hope you find my new website with a fresh new look and easy to access my art work. If you want a special art piece, I'm available for commission art work; contact me at: jimmysartwork16@gmail.com.